I-CON
---
Doctor Who: Podshock - Episode 268
Running Time: 1:25:00
A new companion, new promo trailer, other news, feedback (Greg, Scott, MP, Daisy), and more. Hosted by Louis Trapani, Dave Cooper, Graeme Sheridan, and Taras Hnatyshyn.
Doctor Who: Podshock - Episode 267
Running Time: 2:00:50
The 'original 9th Doctor' story, Doctor Who: Scream of the Shalka is reviewed, Gallifrey One 2012 recap, I-CON 31 preview, news, feedback, and more. Hosted by Louis Trapani, Ken Deep, and Graeme Sheridan.
Doctor Who: Podshock - Episode 266
Running Time: 1:25:58
Doctor Who crossing over into Star Trek, convention updates, news, feedback (Greg, Toby, Rob), late breaking news about Paul McGann, and more. Hosted by Louis Trapani and Dave Cooper.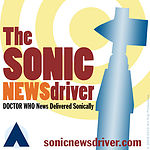 We are a week out from the launch of the new 2011 series of Doctor Who. I don't where the time goes. It's here again. Being that the next Sunday after next Saturday's premiere is a holiday, the first live over-the-net show reviewing the new Doctor Who episodes of Doctor Who: Podshock will be on the following Sunday, May 1st. We may or may not be using Talkshoe again. I am exploring other options if anyone has any to offer. Stay tuned here for forthcoming details.
But before next Saturday comes, this Saturday (April 16, 2011), or for some already, today, I will be speaking on a panel at I-CON 30 from 3pm to 4pm (EDT) (in room 111 in the Javits Lecture Hall at SUNY, Stony Brook, NY). The panel is titled, '21st Century Doctor Who.' Ken Deep of Doctor Who: Podshock will also be on the panel. The panel is being organized by Docking Bay 516 for I-CON. So if you are attending I-CON this year, be sure to attend this panel.
In the meantime, the latest episode of The Sonic Newsdriver is available. Along with the usual Doctor Who related news, it features a 'live' interview with Anthony S Burdge @MythicDocWho while he was in line for the special premiere showing of the first two episodes of the new series in NYC which took place on Monday, April 11th.
Speaking of The Sonic Newsdriver, the companion app for the podcast is already available in the Apple iTunes App Store for iOS devices (App Store link) and on AppBrain for Android devices, it is now also in the Amazon Appstore for Android devices. See details here.
Here is Sarah Douglas talking about her role in the Doctor Who Adventure Game as the "blob-like entity" / Professor Meadows in this short video. You may recall we broke the story of Sarah's role in Doctor Who when we interviewed her earlier this year at I-CON. If you didn't catch it, it was Doctor Who: Podshock 189.
DW: Podshock 189At that time she and we were unsure of exactly what her role was going to be, only that it was for an interactive animated story. We had assumed it may have been another BBC "Red Button" interactive Doctor Who episode before learning of the new Doctor Who Adventure Game series.
On a personal note, it was a real delight spending time with Sarah this past spring. We had her on our show when she during the early stage of this video game project, we would love to have back to speak more on it sometime in the future.
"Geronimo!"
Doctor Who: Podshock - Episode 205 EXTRA Edition
Running Time: 0:55:02
In this Doctor Who: Podshock Extra Edition we include a Doctor Who Discussion Panel we conducted just a week prior to the new series launch in the UK. Joining Ken Deep and Louis Trapani on the panel is Barnaby Edwards (of DWNY and Who York). Also heard in this podcast is Anthony Burdge and Jessica Burke (The Mythological Dimensions of Doctor Who) and long time Gallifreyan Embassy member, Keith Klitses.
"Have you got any apples? All what I can think about is apples."
Doctor Who: Podshock - Episode 189
Running Time: 0:49:03
Our Live Show from I-CON 29 (SUNY at Stony Brook, NY) with Sarah Douglas.
Hosted by Ken Deep and Louis Trapani.
"It's true then. They say the Evil One eats babies!"
Doctor Who: Podshock - Episode 188
Running Time: 0:51:10
We interview the editors and some of the contributors of the book, Chicks Dig Time Lords including Tara O'Shea, Lynne Thomas, Liz Myles, Tammy Garrison, and Katy Shuttleworth (at Gallifrey 21), a Who York announcement and Louise Jameson from Who York's November 2009 event, Hitchhiker's Guide to the Whoverse with Eric Escamilla, a report from Germany with Graeme Sheridan, and more.