Daphne Ashbrook
---
Daphne Ashbrook (Dr. Grace Holloway in the 1996 Doctor Who movie)
A heads up for those may not have caught the tweets from myself as well as @GEmbassy and @Podshock that there's another article in the Mineola Patch about our most recent 25th anniversary event for the Gallifreyan Embassy which was held last Tuesday at Eleanor Rigby's in Mineola, NY.
'Doctor Who' Actress Visits Mineola for Fan Club's 25th Anniversary - Mineola, NY Patch:

"'What started in 1985 with newsletters and meetings, in 2010 is now an online presence like the website or podcasts and things,' Louis Trapani told fellow fans of the 40-plus year British sci-fi series 'Doctor Who' gathered at Eleanor Rigby's Tuesday night. 'But there's still nothing better than good old-fashioned people getting together and having a good time and we have a great community of Doctor Who fans on Long Island.'

Along with fellow fan Ken Deep, Trapani is head of the 'Gallifreyan Embassy,' billed as the largest 'Doctor Who' fan club on Long Island, and which is celebrating its 25th anniversary this year. Deep said that it was 'fitting' that the group was in Mineola because club member Beth Trekman had been working at the Mineola post office where the original club newsletters were mailed. 'You used to see Mineola as our paid postage meter-thingy from the post office,' Deep said. 'Mineola has a special place in our hearts.'

Trapani said he decided to start a 'Doctor Who' fan club on Long Island in 1985 'since there was nothing there at that time, (and) since there was nothing there I said 'hey, I'll start it' and little did I know 25 years later they're still talking about it.'"

(Via mineola.patch.com - read the rest here)
In case you missed my tweets earlier about it, there is a nice write up about the 25th anniversary event for the Gallifreyan Embassy in the Mineola Patch:
Gallifreyan Embassy Celebrates 25 Years in Mineola - Mineola, NY Patch:

"Straight from another world, the Gallifreyan Embassy will celebrate its 25th anniversary at Eleanor Rigby's in Mineola on Nov. 16.

The Gallifreyan Embassy is the home of 'Doctor Who: Podshock,' an internet podcast dedicated to all things 'Doctor Who,' the British sci-fi TV show about a time-traveling alien and his human companion. Podshock host Louis Trapani said Doctor Who actress Daphne Ashbrook will be the featured guest. "

(Via Mineola Patch)
"Nonsense, what you need, Doctor, as Miss Shaw herself so often remarked, is someone to pass you your test tubes, and to tell you how brilliant you are."
Doctor Who: Podshock - Episode 227
Running Time: 1:54:13
Interview with Katy Manning (Jo Grant / Jo Jones in Doctor Who and The Sarah Jane Adventures), Doctor Who Live Review by Philip Hamilton, Graeme Sheridan ( @The2ndDoctor ) Files a Germany Report, Daphne Ashbrook's One Big Love, Death of the Doctor reviewed, Gallifreyan Embassy 25th Anniversary Event update, feedback, and more.
Hosted by Louis Trapani ( @LouisTrapani ), Ken Deep ( @kendeep ), and James Naughton ( @JamesNaughton ).
As we previously announced, the Doctor Who 1996 Movie will finally be released as a region 1 DVD in North America. It has long been available on region 2 (I had my copy for some time now), it has been tied up in release rights issues between the studios involved (BBC, Fox, Universal) for a region 1 DVD release since the movie first aired.
We were pleased to report that it would finally be coming to region 1 with the recent revisiting of the DVD (a new re-release edition). Up until now, we didn't have a release date other than 2011 for this 8th Doctor adventure starring Paul McGann and Daphne Ashbrook. Now according to tvshowsondvd.com, BBC and Warner Home Video have announced that it will be released on February 8th as a 2-disc set titled, 'Doctor Who - The Movie: Special Edition.'
It coincides with the release of another 2-disc set 3rd Doctor story, 'The Mutants' starring Jon Pertwee as the Doctor and Katy Manning as Jo Grant on DVD.
Sonic Newsdriver (16 October 2010) -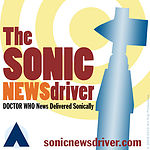 The Sonic Newsdriver 20101016
Selected Doctor Who related news delivered sonically.
For Earth-date: Saturday, the 16th of Oct. 2010

A double length show featuring breaking news of Gallifrey 22 with special guest Shaun Lyon of the Gallifrey One conventions, plus talkin' about my regeneration, don't cross the streams, born in the USA, Tennant trending, what's wrong with my voice, gossiping Gaiman, heard it was your birthday, hello? hello?, Wiiiii have a date, Who is watching you?, NYCC tops 95000, Party with Daphne Ashbrook, and more!
"How dare you follow me into the TARDIS! The distractions… I really thought I was going to be alone again."
Doctor Who: Podshock - Episode 224
Running Time: 1:37:13
Interview with Anneke Wills (Polly in the 1st and 2nd Doctor eras), Join Daphne Ashbrook in NY Celebrating 25 years of Gallifreyan Embassy, David Tennant Recalls Tara Wheeler @TARDIS_Tara on Absolute Radio, Doctor Who: The Ring of Steel and Doctor Who: Podshock in New York City, news, feedback, and more.
Hosted by Louis Trapani ( @LouisTrapani ), Ken Deep ( @kendeep ), and James Naughton ( @JamesNaughton ).
Come and join us for a very special event celebrating 25 years of the Gallifreyan Embassy on Tuesday, the 16th of November 2010 with our very special invited guest, the lovely Daphne Ashbrook!
We have been celebrating the quarter of a century mark of the Gallifreyan Embassy all this year. If you missed our last big event in May, here's another opportunity to join in on the fun!
Joining us at the event is the always lovely Daphne Ashbrook (Grace Holloway in the 1996 Doctor Who movie).
Date: Tuesday, 16 November 2010
Time: 7pm Eastern until (to be announced)
Location: Eleanor Rigby's • 113 Mineola Blvd., Mineola, NY
Cover: $20.00 (Podshock Supporting Subscribers receive a 20% discount)
The event is taking place at Eleanor Rigby's in Mineola, NY. As you may have guessed by the name, it is a Beatles themed venue. It is very accessible from the LIRR train station as well as the Long Island Expressway and Northern & Meadowbrook State Parkways and there is plenty of parking in the rear. They offer a varied selection of menu options for food and beverages. Visit their website for more details and menu offerings. (Please note that the cover charge does not include food or drinks).
For 25 years now the Gallifreyan Embassy has been celebrating the adventures of a certain Time Lord through time and space. Now we are coming together to mark the milestone at this event which is open to everyone (you don't need to have been or be a member of the Gallifreyan Embassy).
Earlier today I got some brilliant news for all North American Doctor Who fans. Fellow Doctor Who podcaster, David Hooie released an unusual for him short podcast. Within the podcast one of the guys in charge of the Restoration team had the excellent news That the 1996 TV movie had just got the go ahead for a US release, after some hard negotiations with Universal, the owners of the rights in the US and Canada. For the full story follow this link.
As you already know if you read my previous post (It Was 25 Years Ago Today…), that today marks the 25th anniversary of the Gallifreyan Embassy.
Over the past few months we have been discussing having some sort of special anniversary event to mark the occasion this year. You may remember last year we held an event in Manhattan for our 24th anniversary in which we paired up with a monthly DWNY meet up and brought the lovely Daphne Ashbrook (Dr. Grace Holloway from the 1996 Doctor Who movie) to the event. See Happy Anniversary to Us… for further details.
We would like to something special for our 25th as well. It would be an event in the NY area, perhaps on Long Island as that is where it all began, yet still be accessible to our friends in NYC. Maybe a dinner event? Would you be interested in attending?
A moment of levity during the live recording of Doctor Who: Podshock 187 at Gallifrey 21 in Los Angeles, CA. (L-R) Ken Deep, two special surprise guests; Yee Jee Tso (Chang Lee in the 1996 TV movie), and Daphne Ashbrook (Dr. Grace Holloway in the 1996 TV movie), Louis Trapani, and James Naughton.
Photo by Eric Escamilla @Bullitt33